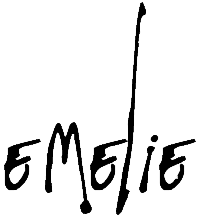 Isolation doesn't have to mean loneliness
A little note from Emelie
If you find yourself struggling with isolation, feelings of loneliness or anxiety, I encourage you to take a look at The Samaritans and MIND websites for resources, help and guidance.
It's important to stay creative, too! It really does help to relax you. Take a look at my YouTube for some inspiration.
Stay safe, and keep creating,
Emelie is an Award Winning Artist, creating empowering portraits to bring out your inner Superhero, using an Urban Art style and a vibrant layering process.
Having been featured in various publications and with a growing accolade of fundraising for a number of charities close to her heart, Emelie's portraits are created to empower her audience, with the titles of her work acting as affirmations when read.
With a sensitive history of depression and mental health battles, Emelie hopes her work will help others fighting the same battles.
Emelie's work has become highly sought after, with Original works and Limited Edition Prints being reserved prior to their creation much of the time.
For information on where you can currently view Emelie's work, or for details on how to reserve a particular painting, please email info@emelieart.com