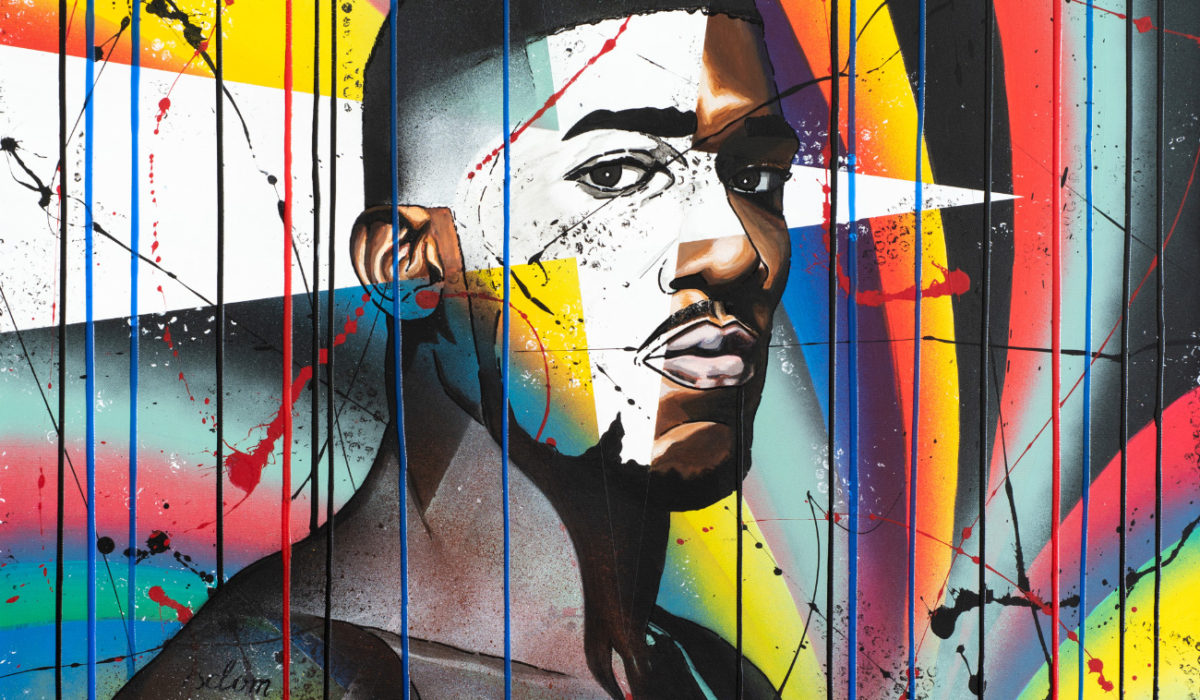 Charity Commission
'I am Resilient'
How it began…
My first encounter with Ed, of The Marble Works of Bath, was a telephone call in March, 2019 about his concept of an Anthony Joshua Commissioned painting to help raise money for his chosen Charity, Dorothy House, upon him having seen my work online.
From this conversation came many more, particularly with the aftermath of Madison Square Garden of June 1st, which led to the Commissioned painting taking a different approach.
'I am Resilient' soon began to take shape and is since becoming one of the most talked about Portraits of my Collection.
The completed painting is due to be unveiled at The Marble Works of Bath invitational Golf Day at Cumberwell Park on August 2nd.
---
Synopsis
AJ: The Beginning
March 2019
A blank canvas.
A blank space that boasts endless possibilities.
In my head, the painting is already finished.
It's Anthony Joshua. In the ring. Gloves on. Face fierce and eyes hungry.
The painting would depict the thunderous atmosphere and the layers of identity that make up the Champion that is Joshua.
The Shake-up
June 2019
Madison Square Garden, NYC, changed the course of many things on June 1st, 2019. The 7th round proved to be too much for Joshua, and a moment in history was made.
My works of Art take on a disposition of their own, whilst building upon the identity of the person I am painting; stripping them down from their outer mask to their higher self, where there's a deep, raw soul consciousness.
Their inspiration, their drive and insight. Seemingly endless layers, experiences, beliefs, congregating to create one personality.
AJ is a defined representation of this.
Considered by many as a favourite to win.
Yet now that fight is referred to as the 'shock of the century'.
The commissioned canvas would need to take a different approach.
The Aftermath
July 2019
Even the mighty can fall.
The Super-human. The heavily favoured. The Champions.
No matter what your fight, no matter what you are a champion of, we can all stumble. It's that free-fall that encourages how our next Chapter will begin.
The magic lies in how we get back up again so as to be ready for that Chapter.
We strive to be our best selves. To live our best life. Yet 'life' has its own plan much of the time.
We can control it to a degree, but in order to fine-tune how we react to life's hurdles, we first must master our mind-set in order to be strong enough to not give up when we fall.
To be resilient is one of the most challenging attributes a person can have.
To withstand, to recover, to maintain balance when our lives can seem difficult and overwhelming.
Joshua displayed such grace throughout his rise into the public view after an eventful past, and shows respect in his many appearances, even after the fight with Ruiz Jr when the world witnessed the upset at The Garden.
AJ's identity remains, though with life experiences such as this forging away at it, leaving their ever-important mark. His resilience is undefeated, despite him being defeated in the ring.
The layers of his identity are comprehensive, and I'd imagine his mind-set was in disarray after the loss on June 1st.
We all have our limits. We must have faith that our confidence will be rebuilt, through sheer determination and a drive to be better.
You can be your Best Self. Anticipate the falls. Rejoice in the small wins and celebrate the big ones. Be strong.
Be resilient.
---
Outcome
Emelie was invited to North London to meet with Anthony Joshua after he had been shown the painting from various sources. AJ subsequently signed the Original Painting, together with three Artist Proofs, and kept the First Edition Print for his own Private Collection.
The Original Painting went on to fetch £7,000 at Charity Auction on 2nd August, 2019, at The Marble Works of Bath Invitational Golf Day, where an incredible total of £40,000 was raised for Dorothy House.